GAIN practical experience on all aspects of utility management
LEARN from other practitioners in the sector
BE UP TO DATE on the latest trends in the sector
BENEFIT from regional and global experiences from other utilities
Program description and covered topics
The need to support and enhance the management culture in the water utility sector is undisputed. The State of the Sector reports and the opinions of various stakeholders in the industry repeatedly prove this necessity. Utilizing the already-developed D-LeaP programs and in partnership with leading utilities in Central and Eastern Europe, the Utility Management Training aims to "equip" current and future water-sector managers with tools and techniques to support their decision making.
The academic partner, Sofia University, further brings academic structure and rigour to the program. The program spans over eight topics that, collectively, cover most of the major processes and functions in a water utility. These are:
Financial and Organizational Management
Commercial Management and Customer Service
Asset Management and Investment Planning
Network Operations
Energy Management and Energy Efficiency
Plant Management
Water Safety Planning
Utility Economics, Regulation and Risk
Spread over two years the modules combine theory and practice, classroom trainings and field demonstrations. Each module is organized within a three month period with an introductory webinar, a one-week "residential" activity and some follow-up work typically based around cases that the UMT participants bring from their own work environments.
Learning goals
Finance: what is the logical structure of cost centres in a water operator? What are the elements of an OPEX budget? What about a CAPEX one?
Asset Management: which assets can be defined as "critical"? What is the preferred data model for each asset class? How can we structure optimal maintenance based on condition assessment?
Network Operations: what is included in Network Operations? How can we move towards "proactive" maintenance as opposed to a "reactive" one? The need of control rooms and gradual implementation of monitoring solutions.
Similar questions are being raised in all eight modules in order to bridge management and operations level which is the ultimate goal of the UMT program.
Currently, the delivery of the program is still under development. The launch of the program, which will be delivered by the regional Danube Hub, is expected in early 2021.
Participating Hubs
The Utility Management Training will be delivered in the regional Danube Hub operated by IAWD. 
How to join the program?
Please download the Application form to register for the Utility Managment Program.
Are you interested in the program, but not yet sure, if it is the right choice for you? You would love to join, but the registration fee is far too high for you to cover? Drop us an email at office@d-leap.org to schedule your personal virtual meeting with us to discuss the program in detail and your options to join!
Related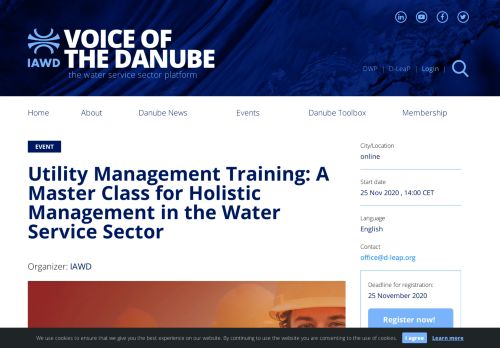 The need to support and enhance the management culture in the water utility sector is undisputed. Utilizing the already developed D-LeaP programs (www.d-leap.org), IAWD with the support of the World Bank in the frame of the Danube...