Secretariat
The Danube Learning Partnership (D-LeaP) is managed by the D-LeaP Secretariat, whereas the staff is provided by IAWD. The IAWD staff takes over the day-to-day coordination and delivery of the D-LeaP programs.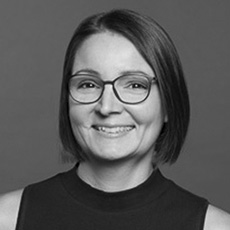 After earning a master's degree in Biology with a specialization in freshwater ecology from the University of Vienna, Katerina joined the Vienna University of Technology, Institute for Water Quality, Resources and Waste Management as a Research Assistant where she has been employed. Her work focused on projects dealing with water quality and included lecturing in basic and advanced courses for operators of wastewater treatment plants. She obtained her PhD within the framework of "The Vienna Doctoral Programme on Water Resource Systems" at the TU Wien.
Since 2006 she has also been actively involved in the national and international activities of the International Water Association (IWA) and is a member of the Austrian IWA Governing Member in which she founded the Austrian Young Water Professionals and chaired their activities until December 2014.
Her involvement in the YWP agenda of the IWA World Water Congress in 2008 in Vienna led to her becoming chair of the global IWA YWP Steering Committee and the representative of the YWP on the IWA Board of Directors (BoD). Since 2011 she has also been a member of the IWA Strategic Council (SC) representing Research Institutes.
Emilija joined the IAWD team in April 2020 as Program Assistant supporting capacity building activties for water supply and sanitation utilities in the Danube Region. Since September 2021, Emilija is in charge of IAWD acitivities in the frame of the Regional Capacity Development Network (RCDN) project.
Prior to joining IAWD, Ms. Milunovic interned with GIZ, supporting two projects on rural development in the Western Balkans, based in Skopje and Belgrade (2016 – 2017). She also worked with Kommunalkredit Public Consulting in Vienna, providing technical assistance to the development of grants for environmental projects in Austria (2012-2015). Originally from Belgrade, Serbia, Emilija is based in Vienna and holds a BSc in Environment and Bio-Resources Management, from the University of Natural Resources and Life Sciences, Vienna. 
Antonia started working for IAWD in April 2022 as an assistant in charge of administrative and financial association business and communication. Before joining IAWD, Antonia spent several years at home with her four kids. During that time she obtained her Bachelor's degree in Geography from the University of Vienna specializing in the field of urban planning and regional development.