GAIN practical support in analyzing and improving utility performance
LEARN from other utilities in the sector
BE UP TO DATE on the most recent tools for analyzing utility performance
BENEFIT from regional comparison with other utilities
Program description and covered topics
Benchmarking, collecting performance indicators and then comparing performance among utilities of similar size and conditions, is a major tool to improve water utility performance. The Utility Benchmarking Program (UBP) assists utilities in identifying areas, where performance improvement is needed. The ambition is to enlarge the network of utilities that jointly work on improving their services over time. The Utility Benchmarking Program is primarily directed to utility teams rather than individual staff members and is the basis under which utilities can identify their capacity building needs.
With the technical support of Macroconsulting, the Danube Learning Partnership establishes sustainable benchmarking routines in Southeast, Eastern and Central Europe operating on two different levels, (i) the national/subregional and the (ii) Danube regional level.
In total, four national/subregional Hubs have been created focusing on utilities in Kosovo & Albania (operated by Water Supply and Sewerage Association of Albania and Wastewater Works Association of Kosovo), in Bulgaria (operated by the Bulgarian Water Association) and Ukraine (operated by the Danube Water Centre Ukraine). Utilities participating at national/subregional level get their own, individual company report, in which their performance in several areas is compared with other utilities in the group. Next to this, workshops are organized to exchange knowledge and good practices.
Utilities participating in the Danube Hub at Danube regional level are intended to be the leading utilities of each country that are able to learn from other utilities of similar size and level in other countries of the region. They receive their own individual company report, in which their performance is compared with the average performance of utilities in the Danube region as a reference.
Learning goals
How to collect and manage utility performance information?
How to develop an improvement plan to address performance issues?
Sharing experience on performance with other utilities
Benefits of joining the UBP
Joining the UBP includes several benefits for a utility.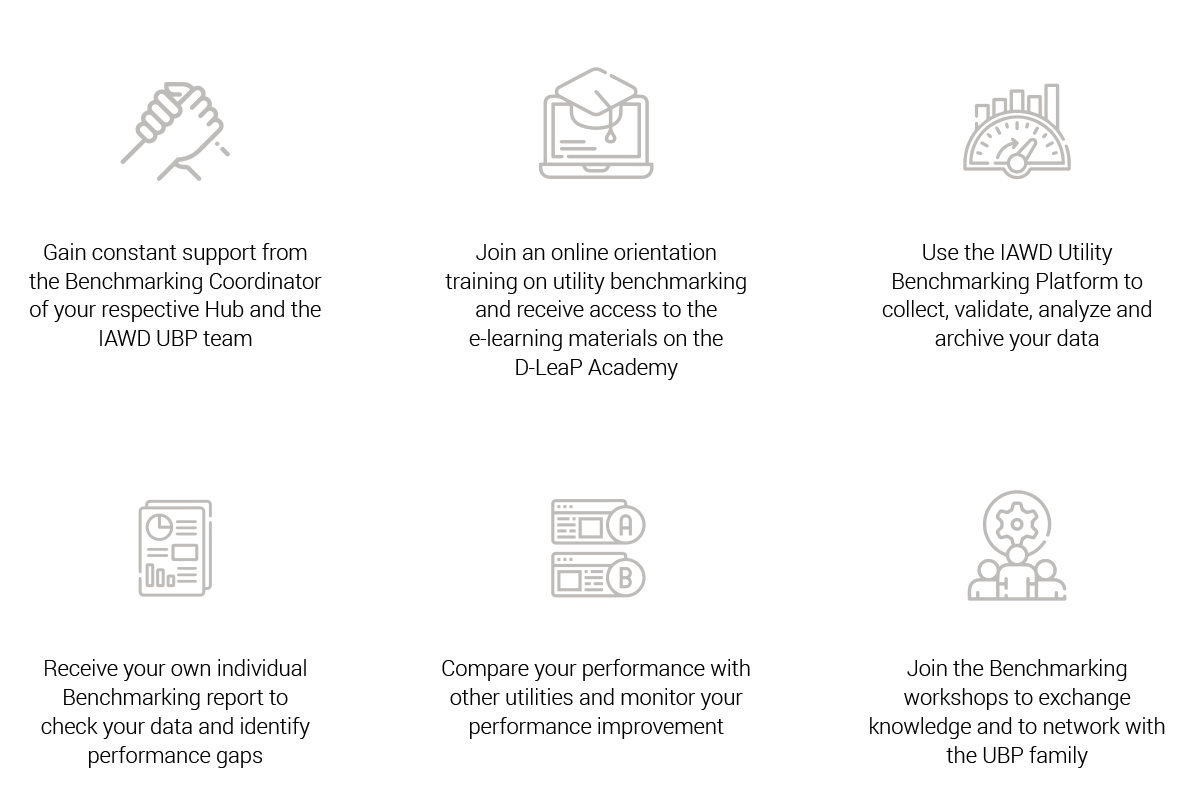 Our testimonials

Participating Hubs
Please consult the
D-LeaP Hubs
to get on overview of programs delivered in your country.