National PI Data Collection
The DANUBIS Data Collection and Management (DANUBIS DCM) platform is designed as a separate, online data collection and management platform to allow national institutions to easily collect, validate, manage, share and publish utility performance data. The specific objectives of the platform are to (1) allow utility companies to enter utility performance data in an amicable web interface, (2) help national institutions check the quality and consistency of the data provided and manage and safeguard the data in a secure manner, (3) provide utility managers with a simple scorecard of their performance over time and against targets, (4) ensure a linkage to DANUBIS.org data platform and the national country systems, for reporting and further processing purpose.
Currently, five national institutions use the platform in their country: the Ministry of Foreign Trade and Economic Relations of Bosnia and Herzegovina, the Association of Utility Service Providers of the Republic of North Macedonia, the Kosovo Regulatory Agency, the Montenegro Waterworks Associations (UVCG) and the Serbian Association for Water Technology and Sanitary Engineering of Serbia (UTVSI). The same signed a Memorandum of Understanding with IAWD and the World Bank to define the roles and responsibilities of each institution with regards to the DANUBIS DCM platform.
The platform was launched at http://www.danubis-dcm.org/ by end of October 2016. Further institutions interested in knowing more, or making use of the platform, should approach either IAWD (Phil Weller - weller@iawd.at ) or the World Bank team (Patricia Lopez - plopez@worldbank.org).
Related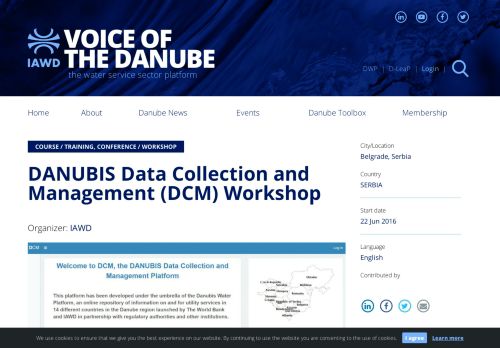 A workshop on the functionality of the regional data collection and management functionality of the DANUBIS web platform will be held in Belgrade on 22-24 June 2016....